AFS Involved in Roundtable Event for Fitness Studio Owners
April 11, 2015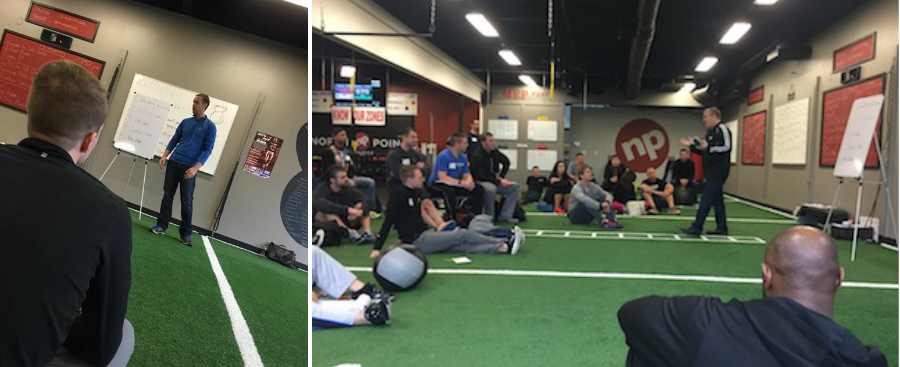 By Josh Leve, AFS Co-Founder & President.
You know that feeling when you're in a moment and you're witnessing something great and you just want to do everything you can to capture that experience?
I had that moment when I recently had the pleasure to participate in the first ever roundtable event put together by Rick Mayo, CEO of North Point Fitness and Alloy Personal Training Solutions and Frank Nash, Owner of Frank Nash Training Systems.
This two-day event in Atlanta, GA brought together studio owners from across the country. And when I say across the country I mean it – states represented were Florida,
Georgia, Arizona, California, Michigan, Illinois, Massachusetts, and more!
Right from the start you could tell the time and care that went into preparing for this event by Rick and Frank. This was further evidenced by the initial "ice-breaker" moment when the group was instructed to individually, turn over an index card, and recite in a specific actor/character's voice and how to properly conduct a specific exercise. Imitations varied from Sylvester Stallone, to Arnold Schwarzenegger, Miss Piggy, and others (yours truly received Forrest Gump talking about the benefits of long distance running).
The rest of the morning revolved around marketing strategies. Without a doubt the biggest challenge faced by studio owners is of course, driving traffic. To tackle this topic head on, small groups were formed and each group was instructed to pick their top 5 strategies and present to the group. Talk about the price of admission right there! Strategies focused on everything from word of mouth initiatives, email marketing, community involvement, leveraging Facebook ads, and much more.
The afternoon session and 2nd day covered more marketing strategies, but also focused on other strategies such as pricing structure, setting up internship programs, where and how to find qualified instructors/trainers, throwing member engagement events - everything necessary a studio owner would want to know to grow their business.
What was so exciting about this event (and something we witnessed at Club Industry in 2014) was that this industry has some of the most amazing people that want to not only succeed in business for themselves, but they have a strong desire to help their peers grow as well.
After hearing many of the stories of trials and tribulations along with many success stories, I left Atlanta inspired for the future of the fitness studio market. It was an honor to be a part of an outstanding event and be able to listen in and participate with an amazing group of individuals. Rick and Frank masterfully put together an educational event with a key element sprinkled in...fun.
Want to learn additional marketing strategies to grow your fitness business?
Get connected through AFS! Whether it's exclusive roundtable discussions or industry leading market research...we've got you covered!
Learn more
Josh Leve is responsible for the strategic business operations for the Association of Fitness Studios. Josh brings more than 10 years of sales, consulting, advertising, marketing, operations, and retail experience to AFS.